Lawyer, Journalist, president of the Syrian Centre for Media and Freedom of Expression
Arrested by the Syrian authorities, on 16 February 2012, in Damascus
Released on 10 August 2015

"Though, there is no greater happiness for a prisoner than the knowledge that the outer world is remembering him, as devastation and bloodshed has engulfed my homeland, happiness has become a kind of luxury for which I feel ashamed." Mazen Darwish, June 10, 2013, Damascus Central Prison in Adra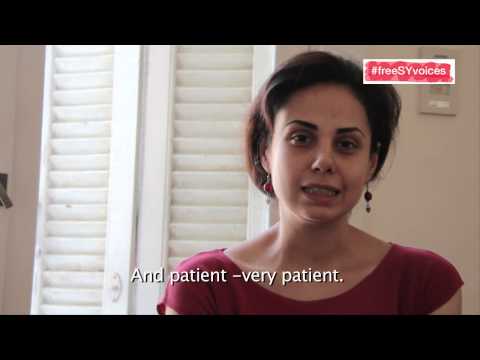 Mazen Darwish is the President of the Damascus-based Syrian Centre for Media and Freedom of Expression (SCM), which he founded in 2004 and which works to promote freedom of opinion and expression. He received the 2011 Roland Berger Human Dignity Award in 2011 in recognition of his free speech and press freedom advocacy in Syria. As crisis engulfed Syria in 2011, the SCM and its staff worked to document serious and widespread human rights abuses with a view to contributing to a process leading to truth, justice and reconciliation.
Mazen Darwish was arrested on 16 February 2012, when plain clothes Air Force Intelligence agents raided SCM's office in Damascus and arrested all present staff members. He had been held in incommunicado detention for several months. Former detainees who were held with Mazen Darwich have reported that he was subjected to torture or other ill-treatment. In November 2012, he was brought to `Adra prison, in the outskirts of Damascus, where he received a first visit by his relatives.
On 5 February 2013, he was charged before an investigating judge of the Anti-Terrorism Court who decided to maintain him in detention. The written indictment dated 27 February 2013 explicitly refers to his work to promote and protect human rights – actions which are held against him as part of an attempt to promote terrorist acts and to "stir the internal situation in Syria and so provoke international organizations to condemn Syria in international forums".
A May 15, 2013 UN General Assembly resolution included a demand for his immediate release. On January 2014, the UN Working Group on Arbitrary Detention (WGAD) found that he had been arbitrarily deprived of his liberty due to his human rights activities and called for his immediate release. The United Nations Security Council demanded the release of all arbitrarily detained people in Syria in its resolution 2139, adopted on 22 February, 2014.
On 24 March 2014, the General Prosecutor of the Anti-Terrorism Court of Damascus presented charges against Mazen Darwish with "publicizing terrorist acts" pursuant Article 8 of the 2012 Anti-Terrorism Law.
On 9 June 2014, the government announced an amnesty, including for the charges Mazen Darwish faces. He was not freed, however.
On 9 October 2014, acclaimed author Salman Rushdie has decided to share the 2014 PEN Pinter International Writer of Courage Award with Mazen Darwish. Also on 26 February 2015, the International Press Institute (IPI) has named him as its 67th World Press Freedom Hero. And on 3 April 2015, Mazen Darwish has won the 2015 UNESCO/Guillermo Cano World Press Freedom Prize. He was awarded the Prize on 3 May 2015, on World Press Freedom Day.

On 31 January 2015, he was transferred to the central prison in Hama.
His whereabouts were unknown from 3 May 2015 to 30 June 2015. Again, on 19 July 2015, he was taken from the central prison of Hama to an unknown location.
Mazen Darwish has been released from prison on 10 August 2015. He was listed in the amnesty decree granted on 19 July 2015. His colleagues Hussein Ghrer and Hani al-Zaitani arrested the same day were released on 17 July and 18 July 2015, respectively.
On 31 August 2015, the Syrian Anti-Terrorism Court acquitted Mazen Darwish appliying the 2014 amnesty to his case.
More articles about Mazen Darwish
"Journalist Mazen Darwish winner of UNESCO/Guillermo Cano World Press Freedom Prize", 3 April 2015
"Verdict against 3 prominent human rights defenders expected on 25 March 2015", 19 March 2015
"Syrian Mazen Darwish named IPI World Press Freedom Hero", International Press Institute, 26 February 2015
"Free Human Rights Defenders Held 3 years", 16 February 2015
"Mazen Darwish winner of the Pen/Pinter International Writer of Courage Award 2014″, 9 October 2014
"Dispatches: A Grim Prophesy, an Even Grimmer Reality in Syria", 24 September 2014
"Free Prominent Rights Defenders", 5 September 2014
"Trial of SCM members postponed", 25 July 2014
"Activists Not Released Despite Amnesty", 18 July 2014
"Opening of the trial against detained human rights defenders Mazen Darwish, Hussein Ghrer and Hani al-Zaitani for terrorism", 28 March 2014
"Syria : Free Key Rights Defenders", 17 March 2014